Young Living's proprietary Thieves essential oil blend was inspired by the legend of four 15th-century French thieves who formulated and wore a special aromatic combination of clove, rosemary, and other botanicals. Possibly our most versatile and beloved blend of essential oils for the home, Thieves is an important ingredient in our home cleaning and personal care products, including laundry soap, mouthwash, fruit and vegetable spray, and hand purifier. Let Young Living help you on your journey to whole-life wellness with our line of household products.
To order Thieves products log into your Young Living Account or Learn how to create an account
---
THIEVES HOUSEHOLD CLEANER – 14.4 fl oz – Wholesale $22.50 – Retail $29.61 – Formulated with the power of Young Living's Thieves essential oil blend, Thieves Household Cleaner is a concentrated, versatile solution that gives you a deep clean when scrubbing, degreasing, spot cleaning, dusting, and more—all without harsh chemicals. (also available in 64oz size and 30ml – 10pk)
THIEVES BAR SOAP – 3.5oz – Wholesale $10.50 – Retail $13.82 – Thieves cleansing soap combines our exclusive Thieves essential oil blend with cleansing botanicals in a 100 percent vegetable base that cleanses and purifies skin. With a warm, spicy aroma from pure Clove, Cinnamon Bark, Eucalyptus Radiata, Lemon, and Rosemary essential oils, this French-milled bar soap offers a creamy lather as it cleanses, leaving skin smooth, refreshed, and lightly scented.
THIEVES DENTAROME PLUS TOOTHPASTE – 4oz – Wholesale $6.75 – Retail $8.88 – Descover a new level of clean with Thieves Dentarome Plus Toothpaste. Naturally derived ingredients such as baking soda and Thieves essential oil blend gently lift stains for brilliantly clean teeth. The minty combination of Peppermint and Wintergreen essential oils adds to the refreshing flavor.
THIEVES AROMABRIGHT TOOTHPASTE – 4oz – Wholesale $10.50 – Retail $13.82 – AromaBright gently brushes away plaque and helps support strong and healthy-looking teeth, while its smooth, natural formula is gentle on teeth and their delicate enamel. With AromaBright you can ditch the ingredients in commercial toothpastes that you don't want and keep all the results that you do: a deep clean and fresh breath! (also available in a 5pk – 2oz each)
THIEVES AUTOMATIC DISHWASHER POWDER – 1lb – Wholesale $25.50 – Retail $33.55 – Thieves Automatic Dishwasher Powder is made with a proprietary blend of cleaning agents and enzymes. Together, they combine the essential oil purity of Thieves, Orange, and Lemongrass with the powerful cleaning properties of natural soap-producing botanicals.
THIEVES DENTAL FLOSS – 1ct – Wholesale $3.25 – Retail $4.28 – Thieves Dental Floss is made with strong fibers that resist fraying and easily glide between teeth for those hard-to-reach places. Saturated twice, this hard-wearing floss provides two layers of essential oils, offering double the protection to freshen your breath. (also available in a 3ct)
THIEVES DENTAROME ULTRA – 4oz – Wholesale $9.00 – Retail $11.84 – A bright, clean smile keeps you feeling confident. Combat the effects of normal staining with Young Living's Thieves Dentarome Ultra Toothpaste. Infused with our popular Thieves oil blend, Dentarome Ultra uses essential oils and naturally derived ingredients for a fresh, clean mouth.
THIEVES DISH SOAP – 12 fl oz – Wholesale $14.00 – Retail $18.42 – Naturally derived and plant-based, Thieves Dish Soap cleans with the power of pure essential oils, leaving dishes sparkling clean with no residue. Enhanced with Jade Lemon and Bergamot essential oils, it has a fresh citrus scent that makes daily chores a little brighter.
THIEVES COUGH DROPS – 30ct – Wholesale $20.50 – Retail $26.97 – Experience the power of Thieves and menthol in a cough drop! The triple-action formula of Thieves Cough Drops offers comfort by relieving coughs, soothing sore throats, and cooling nasal passages. Minty, spicy, and sweet without processed sugar, dyes, artificial flavors, or preservatives, these cough drops are made with naturally derived ingredients, including Young Living's pure, therapeutic-grade essential oils and menthol from Peppermint.
THIEVES FOAMING HAND SOAP – 8oz – Wholesale $13.25 – Retail $17.43 – With this plant-based, instant-foam formula, skin is left feeling clean and refreshed but never over-dried. Plus, you'll love the lingering citrus-spice aroma of our proprietary Thieves blend of Clove, Lemon, Cinnamon Bark, Eucalyptus Radiata, and Rosemary. (also available in a 3pk and a refill size.)
THIEVES MOUTHWASH – 8oz – Wholesale $11.25 – Retail $14.80 – Even with regular brushing, children and adults can miss areas of the teeth and gums. Young Living's Thieves Fresh Essence Plus Mouthwash freshens and provides a whole-mouth clean using our signature Thieves oil blend—a carefully crafted mix of Clove, Lemon, Cinnamon Bark, Eucalyptus, and Rosemary essential oils.
THIEVES FRUIT AND VEGGIE SOAK – 16 fl oz – Wholesale $19.75 – Retail $25.99 – Enjoy eating your fruits and vegetables as nature intended with Thieves Fruit & Veggie Soak! This unique formula combines three exclusive Young Living essential oil blends with other naturally derived ingredients to effectively wash your produce. It's highly concentrated for long-lasting use.
THIEVES FRUIT AND VEGGIE SPRAY – 2 fl oz – Wholesale $8.50 – Retail $11.18 – This convenient portable Spray safely and effectively washes produce with the cleansing power of Thieves essential oil blend, Lime essential oil, and other naturally derived ingredients.
THIEVES LOZENGES – 30ct – Wholesale $19.00 – Retail $25.00 – Always keep the power of Thieves oil blend with you—even on the go! Young Living's Thieves Hard Lozenges, made with Thieves essential oil blend, offer a convenient and portable way to enjoy this favorite dietary supplement.
THIEVES LAUNDRY SOAP – 32 fl oz – Wholesale $29.50 – Retail $38.82 – With a formula that effectively and gently cleans clothing, Thieves Laundry Soap is made of plant-based ingredients and leaves no chemical or synthetic residue. Natural enzymes and cleaning agents, alongside powerful essential oils, leave your clothes fresh and clean with a light citrus scent that everyone in the family will love. Not only does it clean well, but a little goes a long way! This concentrated laundry soap has the power to wash 64 loads with just one 32-ounce bottle, making it economic as well as natural!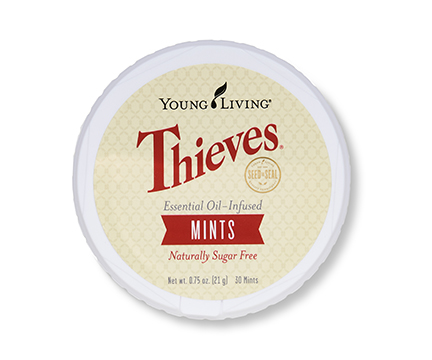 THIEVES MINTS – 30ct – Wholesale $13.00 – Retail $17.11 – Pop a Thieves Mint into your mouth for cinnamint-fresh breath after meals. Made with naturally derived ingredients and free of artificial sweeteners, dyes, and preservatives, Thieves Mints are a choice you can feel good about. Created with Young Living's Thieves essential oil blend, these mints deliver minty coolness with a hint of warm, sugar-free sweetness. Thieves Mints come in a conveniently sized container that is great to take on the go!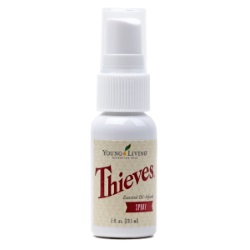 THIEVES SPRAY – 1oz – Wholesale $9.25 – Retail $12.17 – Looking for the fast and convenient way to freshen up small surfaces? Thieves Spray is the perfect on-the-go, quick-clean solution. Keep one or two around the house and throw one in your backpack to use when needed. The fresh, rich aroma instantly promotes a clean environment when used on counters, sinks, door handles, bathroom surfaces, and more. It contains naturally derived, plant-based ingredients and is safe to use around children and pets. One spray will leave your space smelling fresh and clean. (also available in a 3pk)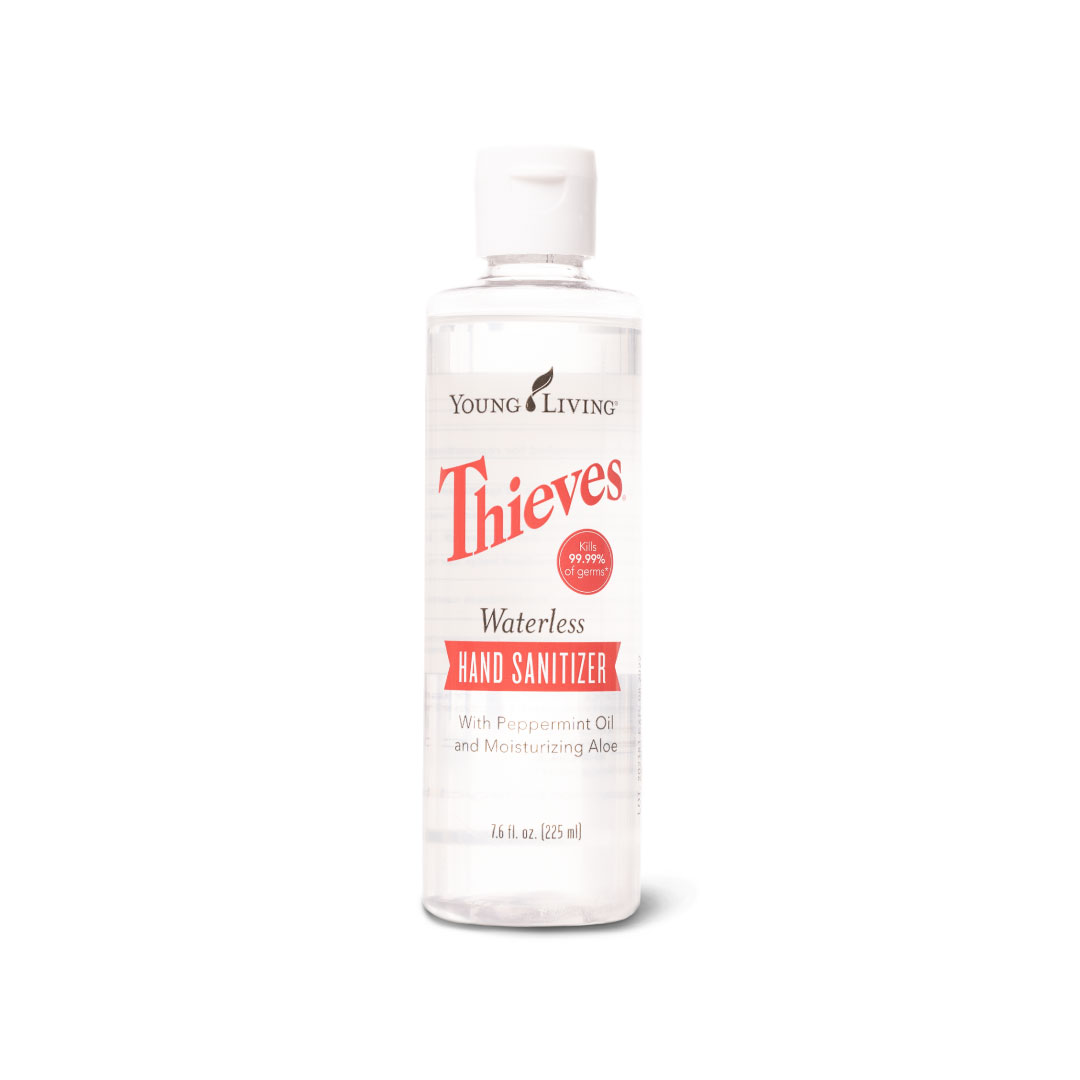 THIEVES HAND SANITIZER – 7.6oz – Wholesale $27.25 – Retail $35.86 – Kick 99.99 percent of germs to the curb! Get clean hands anytime, anywhere with Thieves® Waterless Hand Sanitizer. Small enough to fit in your purse or travel bag but big enough to share, this germ-fighting solution is great for the whole family. Infused with soothing aloe vera gel and the cleansing properties of 100 percent pure Thieves® blend and Peppermint essential oil, Thieves Hand Sanitizer effectively eliminates common, harmful germs and bacteria. As a bonus, this lightweight formula leaves hands soft and smells divine. (also available in a 1oz travel size)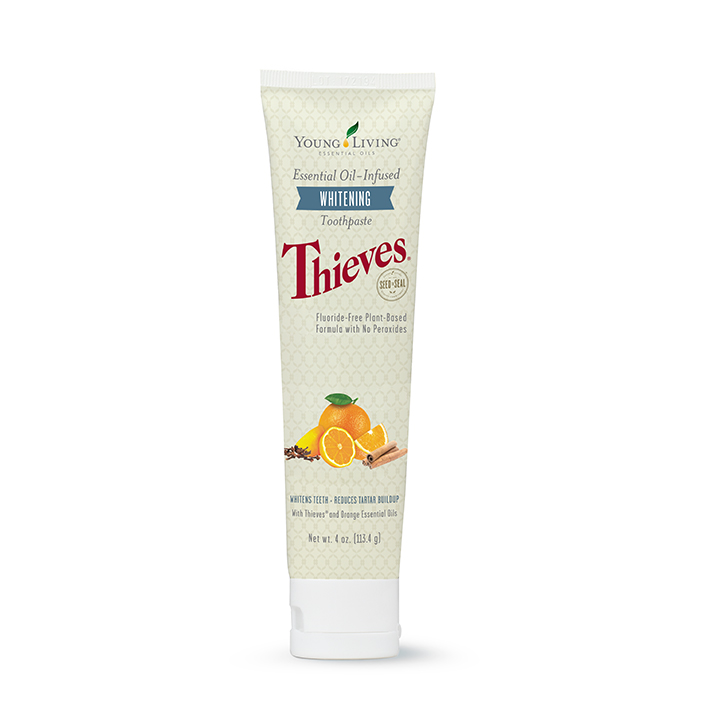 THIEVES WHITENING TOOTHPASTE – 4oz – Wholesale $11.50 – Retail $15.13 – Start your morning on the bright side with the natural power of Thieves® Whitening Toothpaste. Pure and safe ingredients combine to whiten teeth, fight plaque, support healthy gums, and remove stains without damaging enamel. Great for the whole family, Young Living's exclusive formula is both fluoride free and free of other harsh ingredients, offering you a superior clean you can be confident in.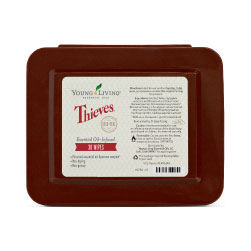 THIEVES WIPES – 30ct – Wholesale $13.50 – Retail $17.76 – Messes are never convenient, but your cleaning solution can be! Thieves® Wipes quickly and conveniently freshen small surfaces at home or on the go. The non-greasy, non-drying formula easily cleans everyday items such as kitchen countertops, bathroom seats, or office telephones. The wipes contain naturally derived, plant-based ingredients. One wipe will leave your surfaces smelling fresh and clean without any rinsing!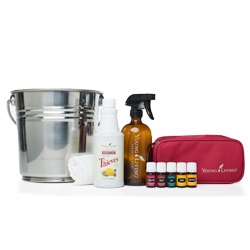 THE THIEVES HOME CLEANING KIT – Wholesale $79.75 – Retail $104.93 – is the perfect introduction to natural cleaning and provides you with a foundation of cleaning tools and supplies to utilize Young Living's 100% pure essential oils. It includes the tools you'll need to clean and protect your home without using harsh, chemicals. You can get started today creating simple and natural cleaning solutions that are not only effective, but safe to use around every member of your family, including children and pets. Kit includes: Citrus Fresh™ Essential Oil Blend 5 ml, Lemon Essential Oil 5 ml, Pine Essential Oil 5 ml, Purification® Essential Oil Blend 5 ml, Thieves® Essential Oil Blend 5 ml, Thieves® Household Cleaner 14.4 oz., Carrying Case, Stainless Steel Bucket, Amber Glass Spray Bottle 16 oz., Cleaning Cloth, Cleaning Recipe Booklet